The 2016 Fiji ISA World SUP and Paddleboard Championship was officially declared open at Port Denarau, Fiji, marking making it the first-ever ISA World Championship in Fiji.
The 26 National SUP and Paddleboard Teams present in Fiji will kick off the competition on Sunday, November 13 with SUP Surfing at Fiji's world-renowned wave, Cloudbreak.
In attendance at the Opening Ceremony were 244 athletes that travelled from around the world to compete for Gold Medals and represent their nation in the team medal event.
Dignitaries present included ISA President, Fernando Aguerre, Fiji's Minister for Industry, Trade and Tourism, Honorable Faiyaz Koya, CEO of Tourism Fiji, Matthew Stoeckel, ISA Vice Presidents, Karin Sierralta and Casper Steinfath, the latter of which will compete at the event for Team Denmark.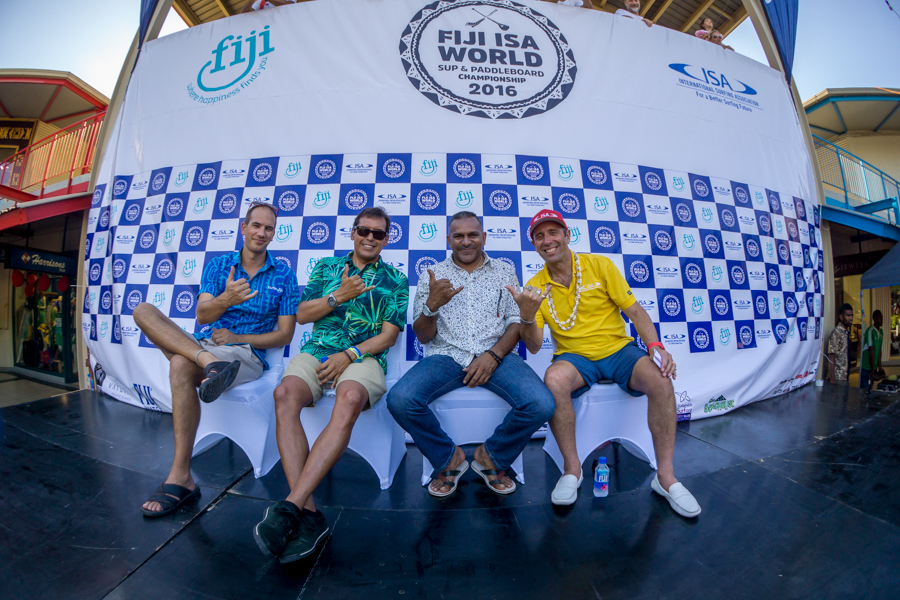 The ceremony began with the Parade of Nations, as each National Surfing Team marched along the marina at Port Denarau waving their national flags while ringing out national cheers in unison. The Fiji Police Band led the parade with a taste of local Fijian music.
Upon arriving to the Opening Ceremony stage the Fijian National Anthem greeted the international competitors.
ISA President, Fernando Aguerre, addressed the athletes and spectators:
"I would like to wish the athletes the best of luck for the week to come. A few of you will go home with medals, but each of you is a champion because you have earned the right to represent your nation in this international competition. When you go home, go home as an ambassador of Fijian warmth and culture.
"We know about the incredible waves that Fiji is blessed with, but the most memorable part of the country for me has been the Fijians that have received us with their amazing 'bula' spirit."
Fiji's Minister of Industry, Trade and Tourism, Honorable Faiyaz Koya, followed and spoke to the crowd:
"SUP is one of the fastest growing water sports in the world and I am confident that this will contribute to the mainstreaming of the sport at an international level.
"The venues and the race courses for the competition are incredibly beautiful, but this is only a fraction of what Fiji has to offer. Our many islands and beaches along with our unique culture and hospitality truly makes Fiji a special place. This is something I hope you all can take time to explore and experience."
Next, two members from each team participated in the Flags of the World Ceremony in which flags of every nation were placed in a clear container to symbolize the peaceful gathering of nations of the world through SUP.
To conclude the competition, the flag bearer from every competing nation took to the stage and waved their flags with pride as ISA President, Fernando Aguerre, officially declared the competition open.
Story supplied by : International Surfing Assoc